Post by pjpenny on Mar 22, 2015 10:17:31 GMT -5
Well it's been a lovely year – eventful, but lovely! Astra (was Astrid) has come along in literally leaps and bounds from the day we picked her up.
Still a waif even after the wonderful love and care given by all at Gap and especially by her foster mummy Sarah and all the family, she eventually overcame her tummy troubles and a pretty nasty yeast infection (which took almost 8 months to sort) has now finally gained 7kgs and is in tip-top condition. Unfortunately she's pretty used to the vets – ripped a dew claw a few months ago and more recently got a nasty cut from a stick she trod on while having an off lead 'bounce' (her middle name is now Tigger). However, she was an absolute star considering the stiches were in a very tricky place on her 'inner thigh' - not the slightest grumble – mummy was very proud – blub…

We also discovered early on that she had an old injury to her front leg which often caused her pain when running, particularly if she ran too much or twisted it, but even that hasn't reappeared for a several months now she's regained all her strength. Like many, she's definitely had a tough former life and used to cower offering a paw at any sudden movement (the ball thrower and fly swatter were particularly scary for a while) or loud noises. She often refused to come back at the end of an off-lead run with her adopted sister Luna. Although she kept close, and has always been very very careful not to lose us from the onset, after trying the 'happy' voice to no avail, any urgency or worried tone clearly unnerved her and made her reluctant to return to be put back on the lead until she was completely run out. We learnt quickly just to wait it out as she wasn't interested in returning for anything (chicken included) – some deep-rooted fear from her past. However, everything has now finally clicked and she knows for sure we would never ever hurt her – even when she 'forgets'

she needs to have her feet wiped when she comes in from the mud pit (garden). I've stupidly managed to drop her lead while untangling the two of them while out and about a couple of times (yes, I hear you Lisa!) but she stands stock still to 'wait' regardless of what's going on around her – which must be pretty unusual for a Saluki cross. We knew she latched on to us and Luna from the get go, but she really has no interest in anyone but us which is lovely albeit a bit tricky on occasions. She is still learning, but is the most eager to please little girl, who will do anything you ask of her with loads of over the top enthusiasm thrown in!
She now quite enjoys playing in water – which was a surprise due to her initial dislike of being bathed (and bathrooms). It started with her first experience of the seaside which she seemed to like– yes she drank the seawater, but we went on for a long walk alongside a little overgrown stream. Astra's new found bravery meant she had to have a paddle and stepped in. However, what we didn't realise was that this little stream was actually a few feet deep in places so under she went – disappeared completely

- much to ours and Luna's surprise! It didn't put her off wanting to go back in - in a shallower part!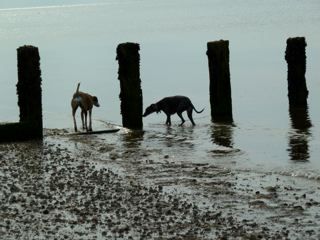 Astra's also tested the water with me a few times – always something different, so I've really been kept on my toes – thanks Lisa!

From walking beautifully when we got her, to pulling like a train when she found her feet and now back again to walking nicely but barking at strange dogs, to nibbling my fingers in excitement and then nipping by bum every time I passed her (put a stop to that one quite quickly I can tell you – she always managed to hit the same spot!) to now jumping up with both feet. A firm 'Down', 'no' and 'off' and turning our backs are still occasionally met with feet and joyous bouncing, but we've partially solved this now by sending her to sit and wait on the sofa which she does with equal enthusiasm!
Speaking of which, she has been attending weekly dog training classes since we brought her home, and made such wonderful improvements from the scared girl who would not walk round the hall at all even with her sis leading the way, and who shouted at all the sweet little 'in your face' puppies, to where she is now. She loves all the dogs (apart from the 'no nose' Char Pei which she just can't figure out) and likes to bounce and play with the tiniest of them – ahem - rather than concentrate on her training..
She's all feet, and that combined with an unlimited excitement for everything has proved to be a challenge, but it has us and the trainers in stitches most weeks – especially 'fetch it' which she's interpreted as 'throw the toy around the hall, show it to Luna and all the other dogs, run off with it, and only come back with it to mum when she's hoarse and waving hysterically…'

Regardless of the odd hiccup she's nearly ready for her Bronze Award test. Staying on the spot even for a nanosecond and not following me is tricky for her, so we've still got some work to do there, but she did pass the puppy training level. Yes, I know she's not a puppy, but she decided early on that she was going to have a puppyhood after all. Astra did win a silver cup in December for the 'Best Rescue' in the dog training school due to the massive improvements she made during the year, so we were pleased as punch for her! She also ran the length of the hall without eating any of the treats left as a test in her path – but that was early on when she felt it more important to get back to me as fast as poss than eating – now she'll hoover while keeping an eye on me – sigh.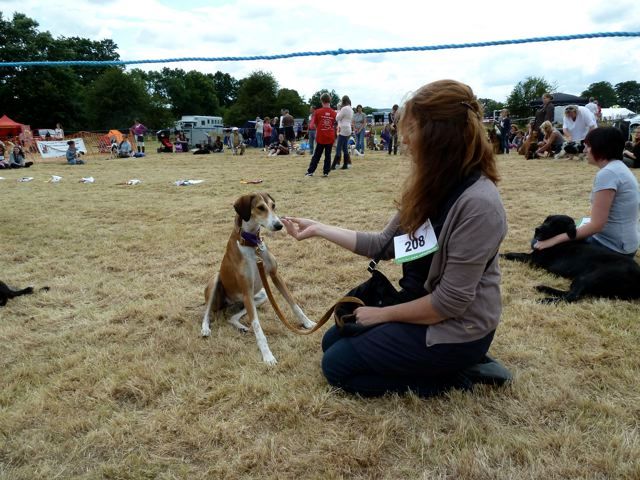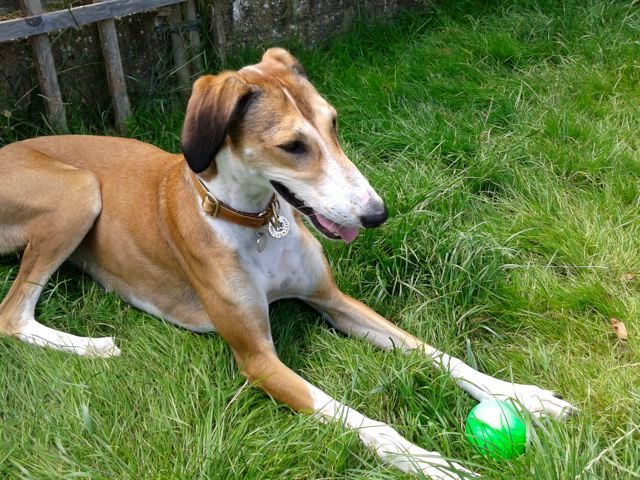 It has been a truly wonderful experience to see her go through all this and overcome so many of her deep-set fears ….and it's such a joy to finally have your nose licked when she's super excited. It's a relatively new thing, and we never know when we'll get a quick kiss along with the usual very close intense wide-eyed stare with the Bambi sized helicopter tail spinning at ten to the dozen. The deep moo-ing sighs when she's comfy always make us smile too.
Thank you Lisa for all your support when I needed it, and to Sarah for giving her such a great new start… :-*and of course to your hounds for teaching her to play - although not sure Luna has forgiven them just yet! She hates to be separated from Astra, but could do without the constant bitey leg, but is learning to ignore it now - even when on walks!
Some more pictures of the lovely Astra and her best friend Luna
.