Post by cadbury on Feb 6, 2009 11:27:54 GMT -5
....mostly for humans but I've slipped a whippety/lurcher one in too.
READ THE FOLLOWING NOTES CAREFULLY PLEASE !!
1) Right at the moment I only have these items in small quanties so items will go on a first come first served basis.
2)I can get these items on a regular basis, I wanted to see which things sold best first, so don't panic!! I'll take orders next week, I'll put a separate thread up.
3) Payment, can be made by pay pal or by cheque. You can pay pal me at nicky-taylor@tiscali.co.uk, OR pm me for my address to send cheque. If you pay by pay pal the normal 1.4% + 20p service charge will apply.
4) Why are you sending the money to me rather than the treasurer?
Well I need the cash to buy the items, it saves Ajo paper work and I have a separate savings account dedicated to funds I raise for Gap. The money in this account is spent on either equipment IE) collars, leads or muzzles for the Kennel dogs, can be used to pay the Trophy bill for the Gap shows as these come from the same place or sent to Ajo in one bulk payment instead of lots of little ones every so often.
5) Why do I post out on Tuesdays, I use the company mailing system and there to busy for me to go in and crate havoc on a Monday

. Also if I go more than once a week they make me do real work

IF YOUR LUCKY ENOUGH TO HAVE SOMEONE TO BUY A GIFT FOR VALENTINES DAY I SHOULD BE ABLE TO GET IT TO YOU FOR FRIDAY THE (DREADED)13TH AS I HAVE STOCK AS SHOWN IN THE DESCRIPTION OF EACH ITEM. See the bottom of this post for details.
Okay dokey here we go with the lovely goodies to feast your eyes on.
Item 1 GREYHOUND FIGURE
Stock availability =1 only !!
Price including P&P= £20.00
Paying by pay pal = £20.00 + 0.20p +1.4%=£20.68
Figure is made of heavy bronze effect resin.
Measurements 10cm/4inch wide, 16cm/6 + a bit inches long way across and max height is 14cm/ 5 1/2 inches.
A lovely figure on it's own, it would make a lovely memorial for a bridge baby or a gotcha day reminder with the addition of an engraved brass plaque. (sorry can't do the plaque

)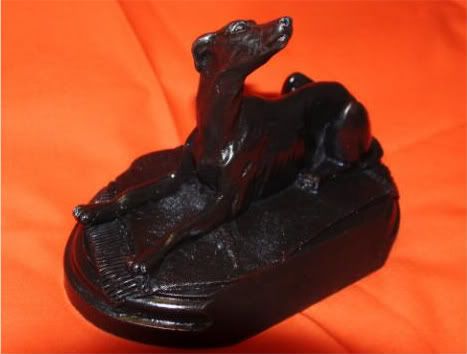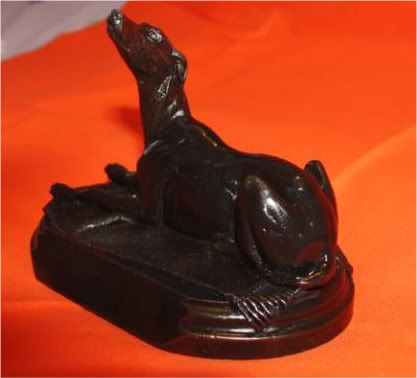 Item 2 Fabulous Whippet collar!!!
Stock availability= 1 only !!
Price inc p&p = £14.00
Paying by pay pal = £14.00+0.20p+1.4%= £14.39
This is a fab collar, smallest neck size 15" will go to 16" on the last hole. All brass 1inch fittings, deepest part of the fish tail is 1 1/2 inches wide. The top layer of leather is 3mm thick, lining is smooth nu buck and is 2mm thick, total thickness of both layer of leather 5mm.the Center of the collar is decorated with a brass sun/ fancy star stud, suitable for both boy and girl whippes or lurchers.
Super value for a hand made in Britain collar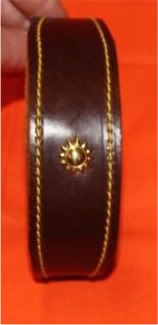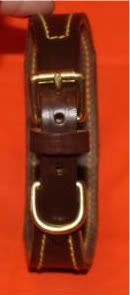 Items 3 + 4 = Brass medallion + Pewter Medallion key rings.
Stock availability =2 Brass 2 Pewter.
Price including p&p= £5.00
Paying by pay pal = £5.00+0.20p+1.4%=£5.26p
These medallions are made to be key rings and are supplied with a split ring to attach to your main key ring. They weigh 23g( just under an ounce in old money

), they measure an inch and a half across or just over 3cm. I think they would make a fab info tag for an outdoor collar . Or for yourself on either a leather thong or ribbon ( you could always have it engraved with your details for when you get lost on the way home from the pub

)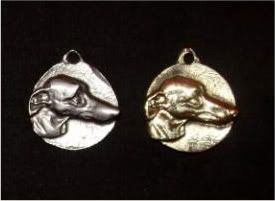 Items 4+5= Key rings 2D in Brass or pewter.
Stock availability= 2 Brass 2 Pewter
Price inc P&P = £5.00
Paying by pay pal = £5.00+0.20p+1.4%=£5.26p
These key rings would make a lovely gift for any male or female hound owner. These the choice of pewter or brass and they come supplied with a split ring to attach it to your main key ring. Again they weigh just under an ounce at 23g and measure 1 1/2 inches or 3cm wide across the head and are the same in height.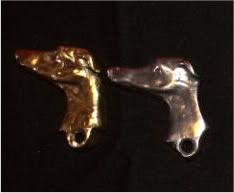 Item 6 = Keyring 3D PEWTER ONLY
Stock available = 2
Price inc P&P= £5.00
Paying by pay pal =£5.00+0.20p+1.4%=£5.26p
This keyring is slightly lighter than the previous one but is brimming with superb detail that my photographic skills don't capture. It weighs in at 18g and measures 1 3/4 inches or 4.5cm from nose to base of neck. Comes supplied with a split ring to attach it to your main keyring.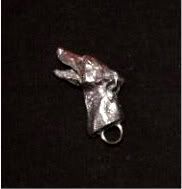 Item 7 = Pewter pill/trinket box.
Stock available = 1 (1 sold to greyhoundfan)
Price inc P&P= £10.00
Paying by pay pal =£10.00+0.20p+1.4%=£10.34
This beautifully crafted pewter box again is an ideal gift for a hound owner but I've come up with a couple of really special uses, a tooth box for any of you who are lucky enough to find a puppy tooth belonging to one of your hounds or to keep a lock of your bridge babies hair in . These boxes measure 1 1/2 inches or 4cm across, 1/2 and inch deep excluding the lid. The box ans lid are separate items, IE the lid is not hinged.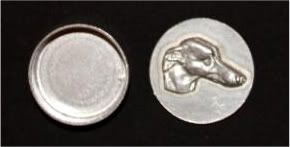 Item 8= Brooch Pewter 2D
Stock available = 2
Price inc P&P= £6.00
Paying by pay pal =£6.00+0.20p+1.4%=£6.28
This fab brooch is very high on detail, again I'm not good enough with the camera to capture it. The brooch measures 1 inch across or 2.5ch and is 1 1/2 inches or just over 3ch high.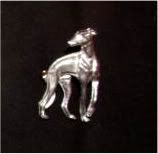 TO GRAB YOUR ITEM REPLY TO THIS THREAD STATING THE ITEM YOU WANT , REMEMBER IT'S FIRST COME FIRST SERVED !! ALSO I ONLY POST ITEMS ONCE PAYMENT HAS BEEN RECEIVED. IF ANY ITEM IS FOR VALENTINES DAY LET ME KNOW!!! IN NO UNCERTAIN TERMS AND I'LL GO TO MY LOCAL POST OFFICE RATHER THAN WAIT TO USE THE BUSINESS POST.
THANK YOU ALL AS ALWAYS FOR YOUR ON GOING SUPPORT OF GREYHOUND GAP



NICKY ;D
Nicky ;D