Barkley
Jun 25, 2012 6:54:18 GMT -5
Post by loopylou on Jun 25, 2012 6:54:18 GMT -5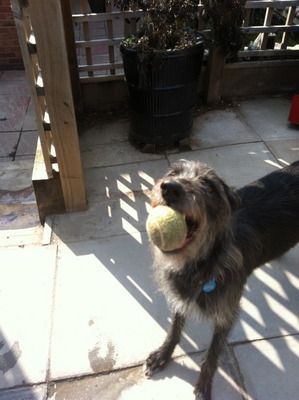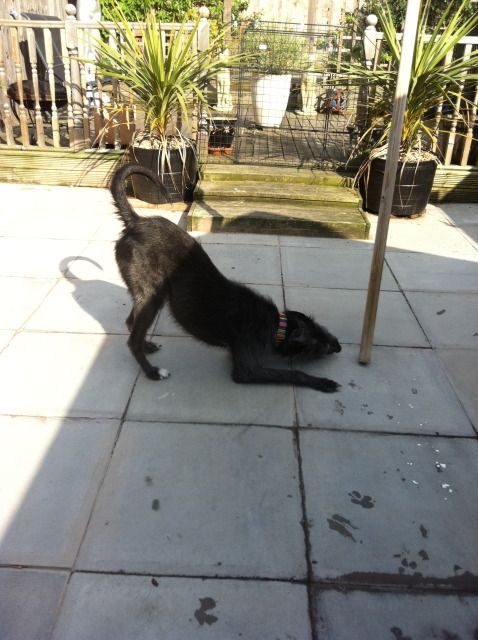 On May 9th Dave and I travelled to the kennels at Stoke with Suggs, Tia , Flynn and Dilly to meet Barkley and see how we all got along. Lets just say within half an hour of meeting we had an extra dog in the car coming back to Leicester.

At first Barkley was afraid to come into the house he didn't think it was allowed. In the end I had to bring him in on lead as he was lying on the slabs in the pouring rain. He was and still is incredibly respectful of the others and if they get excitable or too playful he is quite afraid. We had a few teething problems he wouldn't get into the van for our walks, but with advice from Lisa and the aid of a squeaky ball and treats that was soon resolved. He loves his walks and after three weeks went off lead. He is proving to be a good off leader not wanting to be far away from his beloved Dad. He prefers to do a few laps around Dave and doesn't want to play with the others much. He was very picky with his food at first but is now eating really well, although like Flynn has a delicate tummy.

Barkley adores men and gets very excited when one enters or leaves the house barking and boinging to the top of the door frame. He would take him self off given half a chance , probably due to the life he's led so we are very security conscious with him after he opened the back door , followed Dave down the entry and then forgot how much he loved Dave as the call of the streets proved too much.I eventually caught up with him when he stopped for a poo. ;D Barkley loves to play ball and is very agile, he also carries a soft toy around with him most of the time just like Flynn. If someone comes to the door and he doesn't have a soft toy to hand he runs to fetch one. He is a bit excitable on lead when he sees another dog

but it's just curiosity and excitement as once he gets close to the dog he is very polite. Barkley won third best rescue recently at a Jubilee day dog show he also got lots of attention from people with his soft nature. He has slotted in here easily , is a bit of a scoundrel but we love him to bits and are looking for ward to taking him on holiday in October as he loves to swim so should have lots of fun.Thank you to Lisa for letting him join our lovely pack.