Post by tesse0barney on Mar 20, 2007 9:19:46 GMT -5
We (me and my partner) already had a little Staffy X called Tesse who is my first ever dog that we got from the pound in Aug 2004. We had looked at getting a second dog in autumn 2005 but in the end decided we weren't 100% sure it would be right for us (and Tesse). A year later I got a new job that enabled us to move out of the city and into a nice village in the Cheshire countryside. Our thoughts came back to getting a second dog.
Now Tesse isn't perfect (don't tell her I said that

), she can be grumpy with other dogs. She is nervous of strangers especially men. We basically weren't sure if she would mind sharing me (I am the one who spends the most time with her) with any other pups.
Mike had always like pointy dogs (he likes the worried little faces they have) so when I found this place (Gap) I wanted to rehome all of them

We had our "homecheck" and the man who was doing it brought his Grey' girly. Tesse had a grumble at her which worried us a bit but Gap were very helpful and recognised that is was possibly because another female came into her house without an introduction on "no-mans land".
Anyway, Larry is who a lovely lady called Liz suggested might suit us.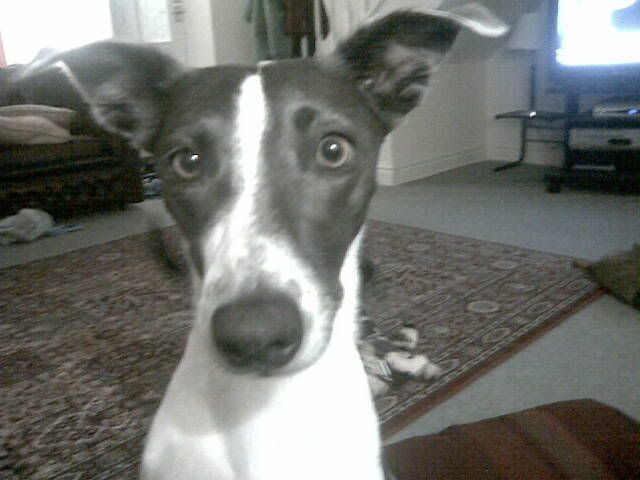 Larry's fosterers (Trish and Mark) gave us a call and we had a long chat about Larry, the dogs and we decided it might be best that Larry came up here to meet Tesse so we could see how she would cope with another dog coming in to her house.
When they arrived Tesse told Larry off for being too excited and woofy but they basically got on fine and we went straight out for a walk. In the house Tesse couldn't wait to play with her new found bessy mate. But finally Trish and Mark took him home

We then had a week of thinking of nothing but Larry, Tesse and whether we wanted a second dog. We decided to go down to see Larry with Tesse and see if taking him was still something we wanted. We had a lovely walk with the dogs. It was great not being under pressure to take him immediately. They also understood that over Christmas we would be with family so we couldn't take him straight away if we did want him.
Another week went by and we knew we really wanted Larry to be a part of the family. So on the 28th December (much sooner than we originally thought would be best as we were really excited) we went down to pick Larry up.
He has been incredible. Straight away he settled in. Tesse loves him. We love him! Trish and Lisa have all been on hand whenever we have had concerns – mainly that they constantly play!
His recall was a meant to be good but for the first two weeks he didn't seem to notice us off his lead. We were very careful where we let him off and then one day a light switched on and his recall has been fantastic ever since.
Tesse has been extremely good with him and he gets away with pushing in front of her for hugs, to get through the door/gates and loads of other stuff. He does get told off by her if he gets too excited and jumpy (esp when he lands on her) when we go for walks but we figure that's fair enough.
He was meant to be very foody and counter surfs with the best of them but this has disappeared (for now) and both dogs get fed at the same time within a small distance of each other. They can even manage to have chews together which is something originally was impossible without starting a fight.
He has now been with us for 3months! We can't believe it. It has been surprisingly easy. We all really love him ;D and can't thank Trish and Lisa enough for letting us keep him

!