Post by Jen Wren on Jun 16, 2012 10:43:14 GMT -5
Fella has decided to help raise some money for the kennel fund. Despite being the most miserable and unadventurous dog alive he has decided to embark on an around the world trip and would like to share his holiday snaps with you all. The only problem is the norty photo elves have been tampering with his pictures which makes Fella very cross.
This is where you come in. Fella would like you all to find the 6 differences in his photos and to let him know what they are.
If you would like to have a go, please post on this thread and donate £1 to Greyhound Gap. I will then message you the pictures together with a little description of Fella's adventure. When you have found the 6 differences, message me back with the answers. Everyone who returns the correct answers will be entered into a
prize draw to win a £10 Amazon e-voucher.
If you would like to be entered into the draw more then once, you can pay for more entries but only need to return the answers once.
ALL ENTRIES MUST BE RETURNED TO ME BY SATURDAY 7TH JULY AT 7PM
How to pay
Preferred methods of payment are
PAYPAL
Payments made by paypal should be sent to:
treasurer@greyhoundgap.com
When you pay by paypal, Greyhound Gap is charged a fee for that service. We therefore kindly ask you to add a small amount to cover the cost of those fees. Paypal charges us as follows:
1.4% of the total amount paid + £0.20 GBP
For example, if you were sending £10, Gap would be charged as follows:
1.4% of £10 = 0.14p +20p = a fee of 34p. Gap therefore receives £9.66
Hopefully that will help you work out how much you need to add to cover the fees.
Please include with your payment your real name, your forum name and what you are paying for
BANK TRANSFER
Lloyds TSB
Acc Name - Greyhound Gap
Acc Number - 02969968
Sort Code - 30 - 94 - 47
When sending money please clearly state your name, Gap Forum username and what you sending the money for or just pm Nettie and tell her what you've send money for and how much.
Or if you cannot donate either of the other ways
By Cheque to
The Treasurer
Greyhound Gap
15 Farlton Road
London
SW18 3BJ
Cheques should be payable to "Greyhound Gap".
PLEASE INDICATE ON THIS THREAD WHAT METHOD OF PAYMENT YOU WILL BE USING.FELLA NEEDS YOU!!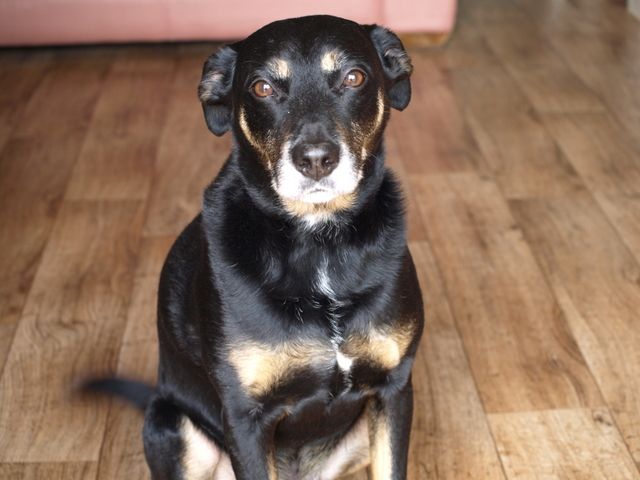 Fella's Story
Most people on the forum know Fella as a miserable, pubic haired, fat Staffie x and a lot will probably be wondering what Fella's relevance is to a Sighthound rescue. Most people on here know Fella's story but for those who don't here it is.
A few years ago Lisa was called to the pound to look at a blind lurcher who had landed there. What she found was a blind lurcher kennelled with a very worried Staffie x and it was clear that these two had a very special relationship. Whenever they entered a new place the lurcher would take hold of the Staffie's tail who would guide him through and make sure he was OK. He would also make sure that the lurcher could find his food and would watch him eat. Whenever they were separated the Staffie x would worry and fret (while the lurcher couldn't give a stuff ;D)
The pound staff told Lisa to leave him behind as he wasn't strictly a sighthound but she couldn't so brought them both into Gap's care. Foster care was found for the blind boy who needed an operation to save his sight while Gap searched for foster home for the Staffie x. I decided to take him home and after 10 minutes of him being here I can honestly say I knew he wasn't going anywhere, the blind boy's sight was also saved and he also found a home and the rest is history.
Fella's story for me is the reason why I continued to support Gap and why I think Gap are so special. They will help any dog in need regardless of their breed. Without Gap's help Fella's future would have been bleak, being a Staffie type and stressed in kennels he would never have found a home. Gap so desperately need our own kennels to continue to help dogs in danger and make the lives of the long stayers that bit better by giving them more one on one attention they certainly deserve. Fella is a truly unique dog and even though he drives me insane sometimes I thank Gap every day for saving his life.