Post by lurcherlot on Apr 13, 2012 6:56:03 GMT -5
Daisy is currently in St Helens and is looking for a new sofa to sleep on. This is what his owner said about her ....
Daisy has been a fantastic family pet since we got her at 16 weeks old. She is from working stock, but has never worked a day in her life!
Daisy has been to puppy training classes and is generally quite responsive off the lead, however she does have a tendency to pay less attention to calls when there is something more interesting about like another dog to play with or a bird to try and chase. Typical lurcher ;D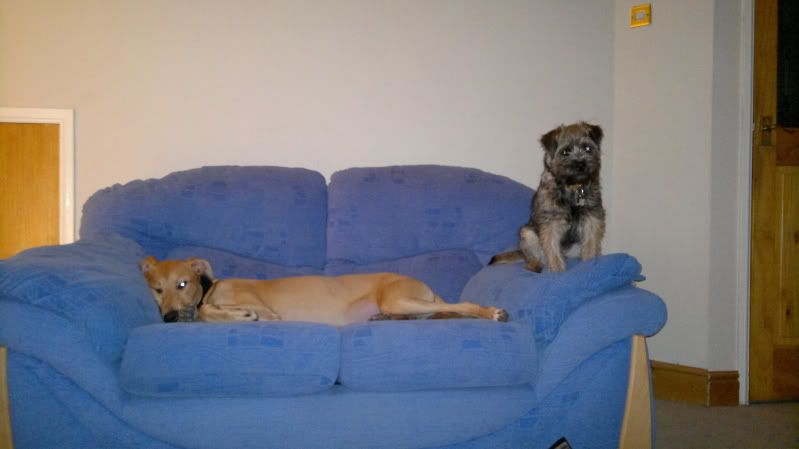 Daisy is used to sleeping on a dog bed within our bedroom .... as soon as Daisy was able to mix with other dogs, i.e. post vaccinations, she has regularly been around two miniature schnauzers which are owned by my ex partners parents. She is more than comfortable around smaller dogs and is generally quite submissive. Since we got Daisy, she has spent the majority of her weekdays with a dog walker who has her and another 5-6 dogs at any one time. Daisy enjoys the company of other dogs and is comfortable being walked by people other than us.
Although we don't have any children, I have two young nieces who Daisy has been in the house with on a number of occasions and she has been extremely good. Daisy has also recently been walked by a family with three young children who she is more than comfortable around and she doesn't mind children making a fuss of her. If there were any downsides to Daisy's personality, it would be that she gets a little over excited when she greets new people into her home. She has a habit of being giddy and jumping up at people new or when i come in from work, again, typical lurcher behaviour! This is easily rectified with a stern 'down'.
Daisy is okay to be left on her own, although we crate for her own safety ..... she did a little chewing when she was a puppy, but seems to have grown out of the habit.
Daisy is a fantastic pet, and we regularly receive comments from neighbours and passers by on how good she is. At weekends Daisy generally walks twice a day for around 30-40mins at a time, with the remainder of her time being spent sleeping!
Daisy is spayed, her vaccinations are up to date and she is microchipped. If you feel you have the perfect home to offer Daisy, please fill in our Pre-Adoption form here ....
www.greyhoundgap.com/homing-a-adoption/pre-adoption-questionnaire
marked for the attention of Liz.
All potential homes will be homechecked by GG