Post by Nettie on Jan 24, 2011 17:00:15 GMT -5
We have been very kindly offered 50% of the sales of the following print. I have copied over part of the email received from Annie to Lisa which gives the history and details of the print.
I was very impressed by your website and the work you do with Greyhound Gap, and I wondered whether you might like to think about an idea we had for helping to raise some funds for your Charity?

In 1995 we commissioned an original painting of our much loved lurcher Etta. The picture was painted by Felicity Kayes. Felicity is an exceptional artist who has an extraordinary skill in vividly capturing the life, mood and essence of her animal subjects. Her work is highly collectable and in great demand.

This wonderful picture displays her impressive attention to detail and brings out an almost touchable feel in the subject - a feel that comes from her love and understanding of animals. She works with pastels, acrylics and water colour which give her the flexibility to capture the true vitality, mood and essence of her subjects.

We so loved the picture she produced for us that we decided to have 650 Limited Edition copies produced, each signed by Felicity – the size is 25" x 17" and printed to Fine Art Trade Guild specification.

We have now sold a large number of these to Art dealers and private collectors. However, some stock remains.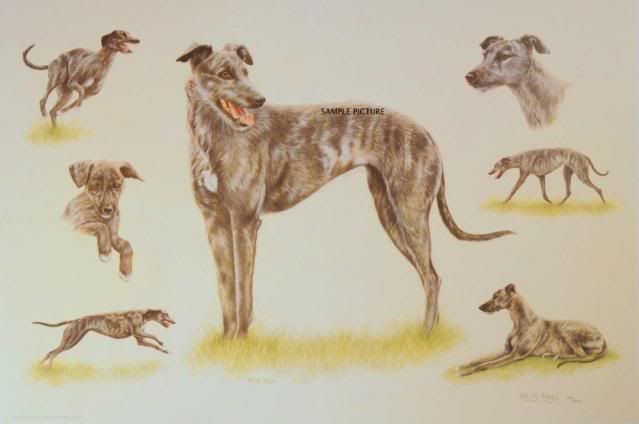 The print will cost £25.00 + £4.99 postage - the print will be posted in a strong tube and plastic caps.
To order the print please reply on this thread to show interest and then pm me with your mailing address. As soon as payment has been received I will forward your order on to Annie.
Payment should be made in the usual way:
By Cheque
Cheques should be payable to "Greyhound Gap" and sent to
The Treasurer, Greyhound Gap
1 Thatched Cottage
Camp Road
Wimbledon Common
London
SW19 4UR
By Paypal
Payments made by paypal should be sent to:
treasurer@greyhoundgap.com
When you pay by paypal, Greyhound Gap is charged a fee for that service. We therefore kindly ask you to add a small amount to cover the cost of those fees. Paypal charges us as follows:
1.4% of the total amount paid + £0.20 GBP, in this case the paypal charge will be 49p.
When sending money please clearly state your name, Gap Forum username and mention payment is for the Etta print.
I am about to be the first person to order one, I think its absolutely brilliant!