Post by cadbury on Jun 25, 2009 12:46:02 GMT -5
Hi, folks I'm delighted to be able to offer you a brand new muzzle manufactured here in the UK. It's so new they aren't technically available yet as the manufacturer hasn't had time to make up any reserve stocks , so they are being made at the moment on an order by order basis. They are not even on the makers website yet

The new design which I'm gonna call the breezy as it lets so much more air has the following attributes.
* Made from flexible nylon polymer, my 16 stone can stand on this and it just bounces back.
* As the bottom of the muzzle basket is not filled in like on the more traditional muzzles, when a hound dinks another running dog on the top of the head with the underside of the muzzle there is no plastic to absorb the dink. So a) it hurts the dog being dinked less and b) it discourages the dog who dose the dinking from doing it.
*Leather head and chin strap.
* All bars in the design are cylindrical rather than flat so there are no sharp edges.
* It's light weight.
* The greyhound model is nice and deep to allow easy panting.
* To me the design is more pleasing on the eye when worn on the dog.
*Long reach and short reach models will be available in time the models shown are LONG REACH models.
* Price will be £8.90 incl p&p. I know there more expensive but they involved much more work buy hand to cut the muzzle template down to the different sizes and the rivet work in the muzzle basket.
*Only available in black.
The greyhound muzzle.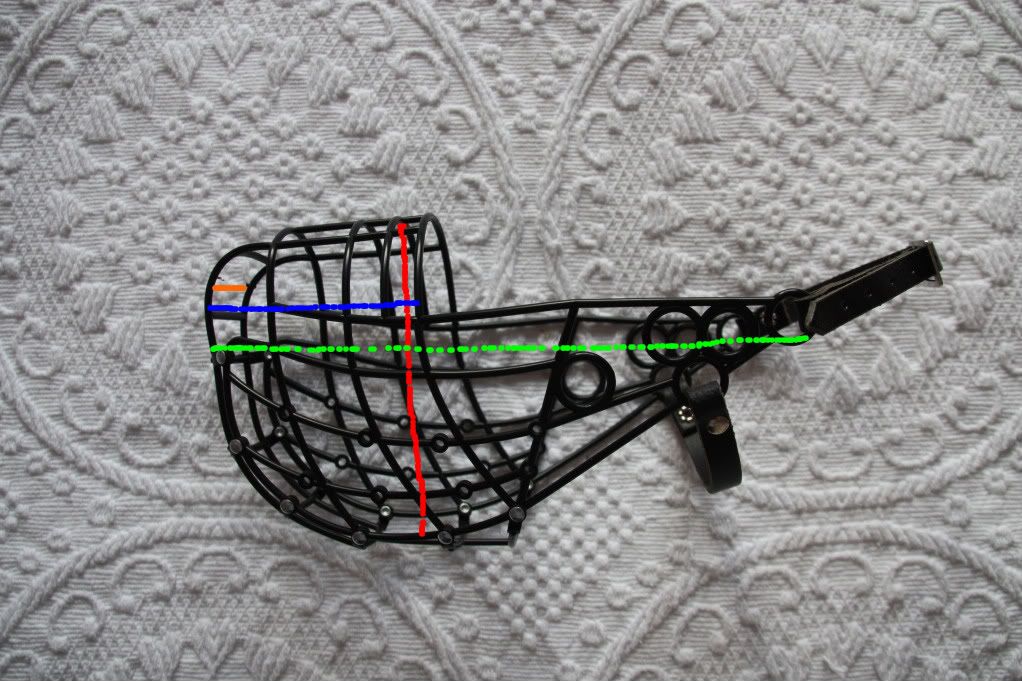 Red line = 5 inch / 13cm Orange line = 2 1/2 inch / 6.5cm
Blue line = 3 3/4 inch / 9.5cm Green line = 9 inch / 23cm.
Payment can be made to nickytaylor1976@googlemail.com by pay pal total cost including pay pal fees and p&p is £9.22.
If you would like to pay by cheque the total cost is £8.90 pm me for my address.
Orders and payment will need to by recived on thurdays before 9pm to be posted out the following tuesday.
JUST TO LET YOU KNOW I'VE HAD TO SWITCH TO 2ND CLASS ROYAL MAIL DELIVERY SERVICE, BUT I ENDEAVOR TO POST OUT ON A FRIDAY, UNLESS I HAVE A PROBLEM GETTING TO THE SUPPLIER. (Edited 25/09/13)
Nicky

I'm sorry to let anyone down but unfortunately I Have an inner ear problem which means I can drive to the suppliers. If anyone is in need of a muzzle drop me a pm and I'll give you the suppliers details so you can order from him directly.
+++++++++++++++++++++++++++++++++++++++++++++++++++

A huge thank you to Nicky for having dealt with muzzle orders for Gap for the last few years. We are now able to stock them in our online shop:

www.greyhoundgap.org.uk/merchandise/online-shop

We stock greyhound, lurcher and whippet sizes, all in black only and currently all 'long reach' (220mm). They are priced at £10.00 each which includes postage and packing.