Post by nome on Jul 10, 2007 10:06:59 GMT -5
We got Diego (Macey) home on April Fools day, very apt!
At first
I approached the whole thing as if we were about to have a new baby in the house, which probably seems way over the top to you experienced dog owners, but we were clueless! I have to say it was way easier than a new baby, but was still quite stressful and knackering. There were no real surprises, like if he can't get out then he'll pee inside - doh! I also assumed that I'd be doing everything, so that I didn't have any disappointed expectations when I ended up doing everything! As it happens, OH does a lot, including taking him out for the occasional run, we're building him up slowly on account of his youth, but he seems to love it - the dog that is, not the husband. My 6 year old plays with Diego a lot and they get on really well.
He does have a bed, honest.
We are excessively cruel in this house and he is banned from the sofa! I very often sit on the floor anyhow, so he still gets lots of cuddles. It only took two days for him to get the message, and now he sleeps in his many beds around the house. He is also not allowed on our bed, but my daughter lets him in hers - and he seems to be able to understand the difference. She's a teenager, so I like to feed Diego sardines in the morning and then let him in to wake her up.

Disasters, mishaps & issues
Mercifully few. He got very overexcited playing with my son Finn in the first weeks and bit a hole in Finn's jumper, which of course terrified Finn and appalled us, but it wasn't Diego's fault and we should have stepped in sooner. There has been no repeat and although Diego will still jump up on people a fair bit (despite my best efforts

), he doesn't do it to Finn at all.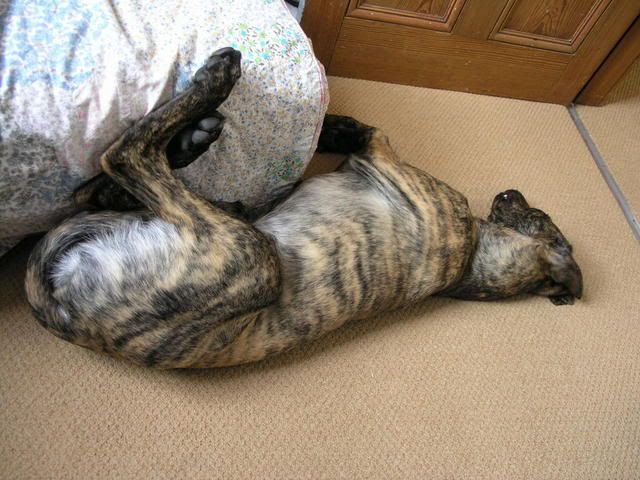 . . . he just doesn't use it!
He's not great in the car, the first twice we took him in it he was sick. I did some googling and discovered that he was likely just stressed, so Rescue Remedy and short trips to go on nice walks seemed to be in order. He's still not keen, but getting better.
The first time we had him wormed we also got some advantix (for fleas etc), because there are billions of ticks in this part of the world and I'd heard that it was better than frontline for them. Anyhow, whether it was the worming stuff or the advantix, he was sick, sick, sick and then I subsequently heard that you're not supposed to use advantix on skinny dogs 'cos they don't have enough fat to disperse the chemicals? I don't know if this is true or not, that's the thing about opinions - everyone has one! I've just treated him with frontline - watch this space.
My daughter gave him compressed sawdust cat litter for dinner instead of kibble - what can I say?

A 17 year old's brain can't distinguish between the two, mind you . . . they're not too dissimilar in appearance!
My cat doesn't like him and he can't really get his head round this and keeps trying to play with her - she's 19, so you can imagine how that goes down! When we get to the winter she may change her tune and decide he's a good source of warmth.
He once ran full pelt into a waymarker pole on a walk, and he yelped and yelped and then collapsed full length on the ground, and I thought he was dying, or that I'd at least have to carry him home. But no, it was just a severe case of over-dramatics and 5 minutes later, you'd never have known.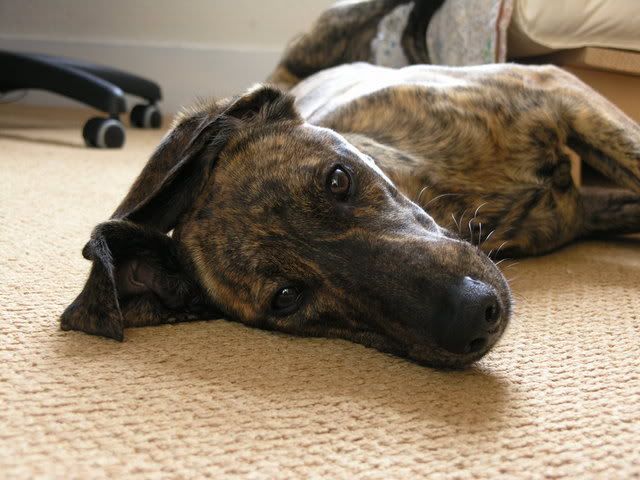 Just to prove he's a Gap dog!
Now
I think we have most things sussed (ha!, I hear you cry), we're working on the jumping up and the playful(!) biting, and it's getting better slowly. Walks are a joy, and his recall is pretty good. He' has NEVER shown any sign of aggression towards any person, dog or cat and he even chases rabbits more out of fun I think, I'm not sure he'd know what to do with one if he caught it, but then again . . .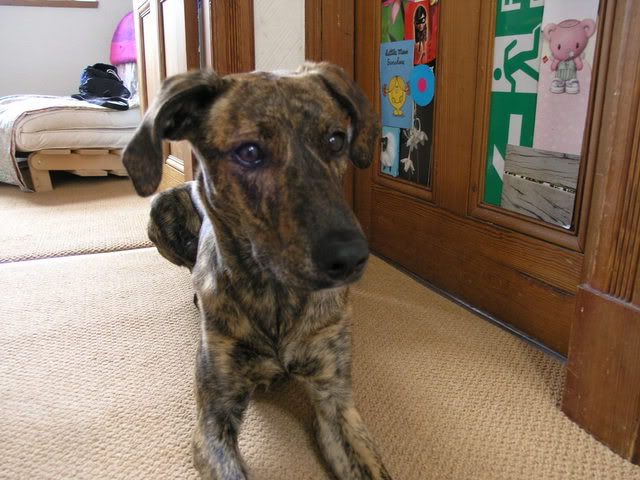 ;D
I think I've covered all the main things that we faced with a new dog. We were new dog owners too, so we've had a lot to learn and still do. Mostly it's been a really positive experience, we absolutely adore him and love having a dog, he seems to quite like being with us too.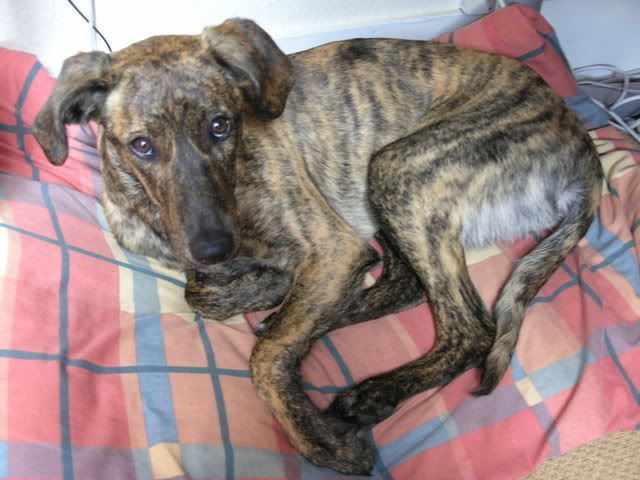 Bed no.3 - under my desk.
Any hints on how to get your dog to toilet when on walks rather than when he gets back, will be most welcome - OH starting to lose the plot with the dead/dying patches on the lawn. I did point out that he was quite fortunate to still have a lawn, but he's not listening.
So, ramble over. Thanks to everyone at GG, you've been great, and thanks for a lovely dog.
I'll try to take some more pics when we're next out and post some action shots!
Naomi x