Flash
May 19, 2007 11:53:58 GMT -5
Post by bigbird on May 19, 2007 11:53:58 GMT -5
We'd never had a dog before and were a bit unsure whether we'd be able to working full time, but Lisa found us the perfect match and after a testing first couple of weeks I recommend greyhounds to everyone I meet! I'm working on Stu for number two now...
Flash came home with us mid february. Amy had done a fabulous job fostering him...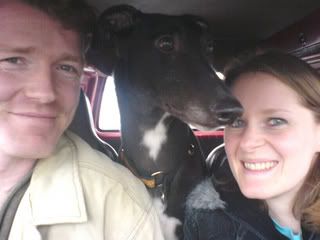 I ride my motorbike home on a lunchtime to let him out, and sometimes he comes to work with me too. That's great coz we get a 4 mile walk either way through some lovely parks.
For the first couple of weeks he kept us awake from 3am wanting to be in with us. I just think he had had enough of his crate! Stu nearly left home (grumpy sod

), but we laugh about it now! Now Flash sleeps wherever he fancies (in our room for a bit of the night, then into the spare room on the comfy duvet). We never hear a peep from him ;D, although he scared the life out of us both a couple of times leaping on the bed on top of us at 4am!!!
We had a bit of a disaster a month in- on his third off lead jaunt he broke his toe and was in plaster for 5 weeks up to his elbow!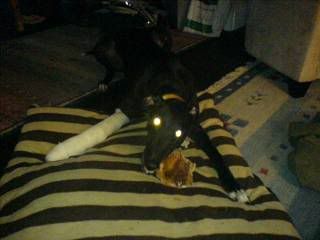 This threw him (and us!) a bit as he was just settling in nicely, and he was getting upset when we left him. Lisa was just fab and rang us frequently with advice and every time we thought we'd made a mistake and couldn't cope she was very reassuring and helped us keep it all in perspective. We really couldn't be without Flash now ;D
We weren't sure if he'd be OK with the guinea pigs with him not being cat friendly, but after meeting them he doesn't pay them any attention at all now!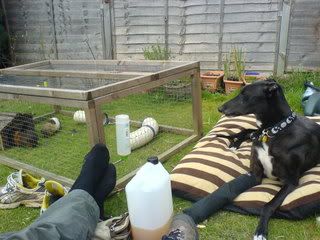 My furry slippers, on the other hand, are never safe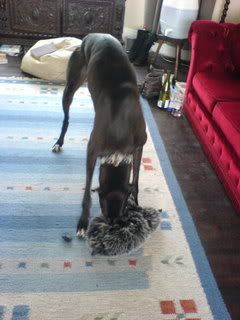 He is still a bit of a fussy eater and will never be fat but seems to do OK on James Wellbeloved and`Nature's Menu. He's certainly much happier now he doesn't have any pork products (sorry Flash, no more pigs ears for you!).
He comes to the local with us on a friday night for a couple of pints and sleeps happily on our coats. He's a bit of a celebrity and gets lots of cuddles off the landlord! We have taken him on holiday to a dog-friendly B&B
and are planning another this summer with my mum and her horse!
Lisa, we can't thank you enough for all your support and helping us through the initial settling in bit. I'm sure without that we would have really doubted if we were doing the right thing and would be missing out on so much if we didn't have Flash now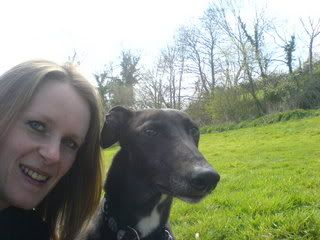 PS: And big thanks to Cathy for all the help you've given me so far with Flash, for answering my constant worried texts, and in convincing Stu to get a dog in the first place ;D