Post by cadbury on Mar 22, 2007 10:17:55 GMT -5
The Old Bean as he is often know, came to us as a foster in early May 2006 when he and Tipo came into Gaps care after their owner died. As a naughty foster mum his name got changed from Merlin to Ronnie as with all his goofy hair he reminded me of Ronnie wood from the Rolling Stones and for a old geezer he certainly had a lot of rock 'n' roll left in him. We guessed him to be around 10 years old but some days he's a pup and others he's a proper geriatric.
When Ron arrived he was in desperate need of radical dental care, his teeth were so bad he'd had an abscess burst through the side of his face. On his first round of dental surgery he lost 8 teeth and later on last year he lost another 4 all due to mass abscess infection. To say his breath stunk was an understatement and his mouth must have been so sore for a long time but I'm glad to say with regular brushing things are being kept under control. He may need further dental work as his gums are receding around his front teeth but we'll hang onto them as long as is sensible.
Mr Barker is as you can guess likes the sound of his own voice, normally to get his point across, "I want my breakfast" on the dot at 9am and "I want my tea" starts at around 9.40pm. His repitor also includes " Get this naughty young whipper snapper of my big furry comfy bed", "Open the bed room door so I can get on my furry bed, while your tapping away at that keyboard. As with most Saluki Collie crosses there is also nudge nudge with his nose which means " stop what ever your doing and rub my ears" and paw paw " Hoe dare you stop administering belly rubs to your lord and master". All in all his a real character who never ceases to make me smile.
I should say a BIG THANK YOU to Lisa for letting me keep the daft old soul too, as it's meant I can only foster girly dogs as Ronnie likes to keep a harem around him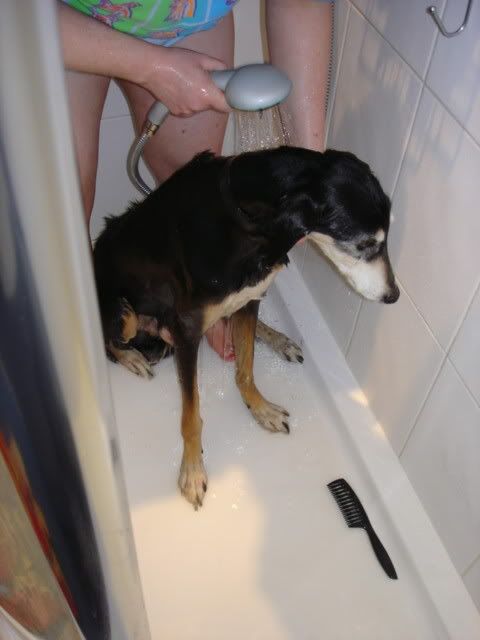 Ron wash and brush up not long after he arrived. When I gave him his blow dry after was when I knew I was on my way to the failed foster club, as he kept looking into my eyes and pawing me, as if to say Thank you.
Here's Mr Baker modeling his gentleman's green coat with old cogger tartan fleece lining.
This is him on his upstairs warm comfy furry bed that he loves so much.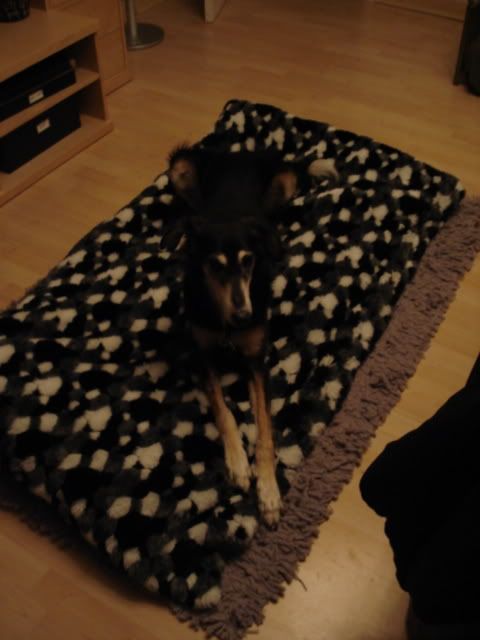 Ron Ron's first taste of Christmas at home here with us.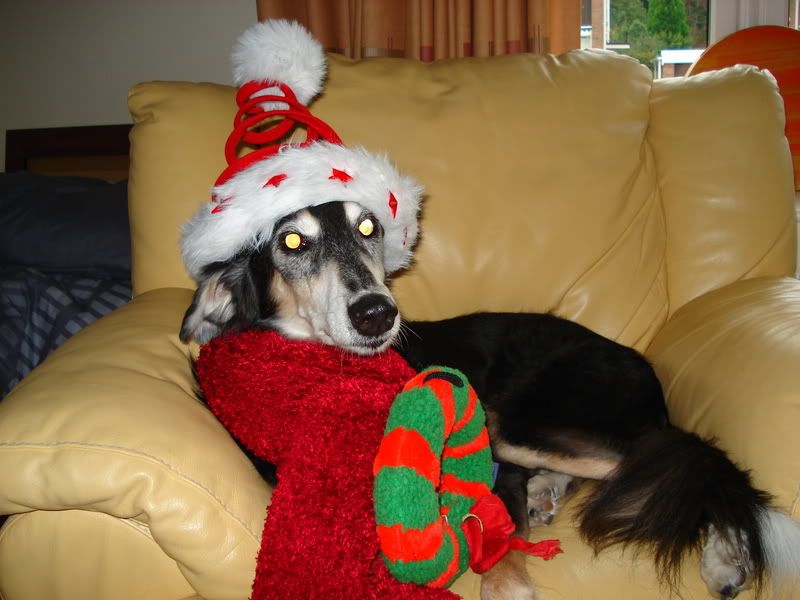 Here he is in prime position on his other furry bed on the sofa, where he watches over his kingdom from.