Post by Lisa on Jun 27, 2006 9:42:49 GMT -5
Izzy the dream dog who broke our hearts.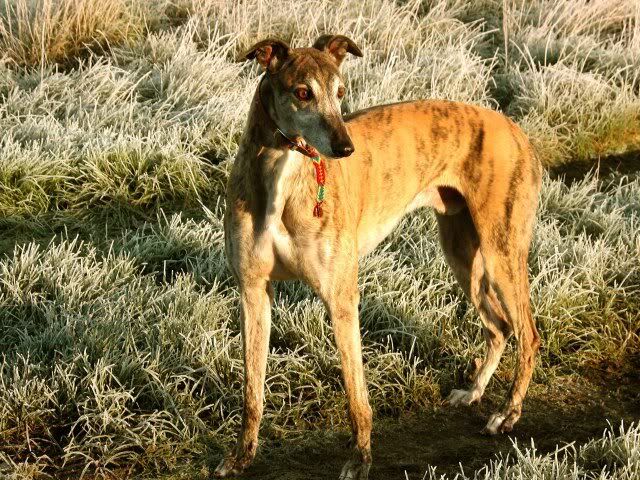 Izzy came into our lives less than a year ago. Little did we know then, that within the year he would break our hearts. Still there we were last July 15th, my youngest son's birthday as it happened, with beautiful, gentle Izzy striped and coloured exactly like a Tiger. He was one half of a pair. His running mate was Nigel or "Nige" as he soon became known a big, strong Irish lad with a coat the colour of marbled chocolate and striped with blue. Utter stunners.
We had toyed with having another dog for a year. Rescued types were our speciality having decided a long time ago that as cute as puppies are, surely there are so many older dogs out there needing TLC. We had lost Penny two years previously. She was a bonkers and beautiful white greyhound cross whippet who we took in at ten months and she bowed out at 18 years. Ella May the little rough haired golden lurcher left us the following year, aged about 15. Although we were never really sure how old she was. Rescued after living rough for six months when she was dumped by travellers she had been burnt and beaten and came with a bald body and serious stealing habit but in the end love was all she needed…and a full bowl…and a warm bed. Still didn't stop her tea leafing though – she once opened the oven door and stole a leftover joint of beef.
But back to the boys. We decided to go for it. Lisa said they were a pair of crackers and so it proved. They settled in like a dream with our two elderly cats – Kitten (nearly 20) and Buster a handsome golden tabby gent of 13.
Apart from Nige eating for England and having a snout which was a little too near the kitchen worktops - a slice of beef whipped off the sandwich I was making under my nose and strange greyhound nostril shaped marks mysteriously appearing in the butter – they made themselves very much at home.
They proved to be gentle, affectionate, undemanding, clean, funny and just fab. Izzy and Kitten would share a bed, Buster would tolerate these long legged interlopers and Nige would just eat anything that was on offer.
No sofa, bed or comfy cushion was left untouched. Izz just adored climbing into beds, getting under the duvet and throwing the pillows around so he could rest his head at just the right angle. And Nige would squeeze his bulk into the smallest armchair.
Tony, my husband, was the walker and early morning routine was dog breakfast and walks across the neighbouring fields. Izzy staying close by, Nige buggering off when he got the whiff of a rabbit or muntjac but he soon calmed down and stayed closer.
Those bare buttocks – a sign of stress I believe – started to grow downy fur and they proudly paraded their furry bums like a WAG in Baden-Baden bar – a sign of total luxury.
Our sons (all grown up and living away from home) just loved them. The youngest had two Jack Russell puppies which we dog sat whilst they went on holiday. To say it was chaos was an understatement. Buster took to the garden hedge. Kitten just socked them with an extended paw whenever they came near. Nige had to be watched as they were all over him and he was a bit put out. But beautiful Izzy just let the little perishers – Pickle and Freddie – sit on his head and chew his tail – his patience was endless.
So the months wore on. The cane sofa in the conservatory became Izzy's personal property. Nigel would sneak on if Izz got off, but it was definitely Izzy's. Nige took to hijacking cushions and beating them up. Izzy knew the sound of the biscuit barrel lid even when opened in what I thought was total silence.
There was a downside. Wind! Lots of it, almost gassing my mother when she stayed last Christmas. The pair could clear the room when they started farting.
They became local celebrities too, gaining admiring remarks. One afternoon a gang of little boys passed them out walking. As they went past one lad turned and said: "Those dogs are so cool!" You bet!
It has been a joy to see their wet noses and once dull coats turn glossy and sleek and to be given big sloppy kisses by them or whipped by their wagging tails.
But it was to be a short lived joy. Last Friday morning Tony took them onto the gravel pits for a change of scenery. It's alive with rabbits and the dogs picked up the scent and chased together. Suddenly Izzy foamed at the mouth, his back legs collapsed and within minutes had died in Tony's arms (we now know it was cardiac arrest). With him went a very bright light from our lives.
There must have been something undetected wrong with him and (who knows what or why) and we'll never know but we have been left with a real feeling of being cheated of a wonderful companion who should have had years left to enjoy.
And he too has been cheated of his chance of his forever home. Even with the various dogs we've had, when it's been time for them to go there has been sadness but also a feeling that it's been a life well lived. Izzy has left us feeling so empty, as if we failed him, though I know we didn't.
I said to my distraught husband: "If you had known last year when we collected these two that one wouldn't be with you at the end of that year, would you still have done this?" I don't need to tell you the answer. For a short time that tiger-striped boy brought us huge pleasure. He knew love, he knew security and at least his last months were happy and not spent in fear or distress and I hope we gave him far more than he gave us…which was immense.
Nigel sat and cried mournfully when I brought him home after Izzy died. He is quiet but seems OK and is getting extra TLC and I bought a pretty blue and clear glass light catcher from the church shop at the weekend which hangs over Izzy's sofa in the conservatory and dances and jingles in the summer breeze.
Sadly our 20-year-old Kitten had been euthanized two weeks beforehand. The feisty tortoiseshell didn't want to go but she had so many things wrong with her, it was time.
Where do we go from here? Who knows? Nigel is our first concern but I have no doubt whatsoever that before long there'll be another Greyhound Gap friend coming to play.
And I like to think that Izzy is cuddling up with Kitten somewhere in a dog and cat heaven…they both deserve a long, peaceful sleep.
Anne Harper
June 26th 2006
and Nigel the scamp his big buddy